Planting Bags
These bags are used to cultivate and grow seedlings into plants or various different fruit and vegetables, depending on the type of seed used. All bags, unless requested otherwise, are punched with drainage holes which can be and often are determined by the client and the particular needs they have.
All planter bags are manufactured from 100% virgin UV stabilised material unless requested by the client to do otherwise. A range of colours and sizes can be manufactured on condition that the minimum quantity requirements are met.
Click here for standard sizes and prices
6 Benefits of Plastic Plant Bags
Cost Savings. Plastic plant bags cost less to produce (and therefore cost less for you) than plastic or metal pots, or other rigid containers
Plastic plant bags require less energy to produce than hard containers and they're also recyclable
Space-Saving
Durable
Customisable
More Growth
Polywoven Tree Bags
Polywoven tree bag are made from polypropylene material and is laminated for controlled water retention. As a standard all bags are punched with 2 holes per panel which allows for water to pass through and prevent the roots from rotting. These bags also have four handles, either at the top of the bag or the bottom of the bag for ease of lifting. These bags are available in four standard sizes, but can be manufactured according to customer specification as long as the minimum quantities are met.
Standard Sizes:
70 Litre (Size 37x37x50 )
100 Litre ( Size 41x41x60 )
150 Litre (Size 46x46x70 )
250 Litre (Size 56x56x70)
Clear Bags (100% Virgin Material)
Compost Bags are available in a standard size of 510x750x100 Micron, but can also be customized according to clients' specifications. We can also print your company logo on the bags*
Pebble Bags are available in a standard size of 300X600X150 Micron
Minimum quantities may apply.
Ground Sheeting
Plastic Ground Sheeting Black 100% Virgin Material
Plastic ground sheeting is manufactured from 100% Virgin Material and UV Stabilised for a period of 24 months.
Standard Sizes are available from 1M width up to a 6m width and standard microns are 100 Micron, 150 Micron and 250 Micron.
Agriweave Sheeting
Agriweave sheeting is a woven polypropylene tape yarn designed to block out sunlight, allow maximum water dispersion via specially profiled threads and also ensure the strongest puncture resistance.  It is used in areas where a stronger heavier, duty fabric is required, such as under lawns, driveways, paths, patios, play areas, allotments, etc. It can also be used inside greenhouses as well. Standard sizes are available in a 1.5 Meter and 3 Meter Width.
Bootliners
Bootliners can be offered as a non-print or can be printed on and are available in a standard size of 600MM X 1000M X 10 Micron and perforated at 1M intervals.
Bootliners can be printed on in any design and with as many colours as the customer wishes. Minimum quantities may apply.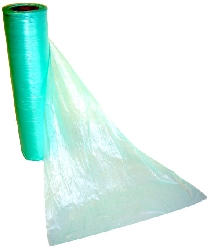 Frost Cover
Frost cover is an ultra-light, spun-bonded, non-woven polypropylene fleece blanket which protects against:
extreme climatic conditions i.e. cold, wind, hail & excessive moisture loss
attack by insects, birds, rabbits & small grazing animals
Because frost cover is made from a hydrophilic material, it allows air, liquid fertilizers and water to permeate through. However, lifting crop cover prior to watering will ensure a more even distribution of water.
Directions for Use:
Cover shrubs to protect them from frost
Spread over crops and secure loosely with sand, sandbags or wire spikes so that frost cover does not blow off
After use, store the frost blanket in a dry, dark place and protect from rodents
Available Sizes:
3m x 10m
3M x 5m
3 m x 500m 17gsm
3M x 500M 30gsm
2.4M x 50m 30gsm
Nursery Supplies
Seed Trays  (these are seedling trays but without the compartments, also known as germination trays)
Carry Trays – Black (used to carry 4 seedling trays inside)
Hanging Bowls 
Plant Blankets (also known as Frost Cover, used during the colder winter months to protect plants from frost damage. Plants can be watered through the frost cover, allowing maximum convenience)
Plant Markers
Row Markers (these are large plant markers which are sometimes used to mark a row of plants but can be used on individual plants as well and are available in various colours, sizes and in a straight or tilted option (the latter allows for a customer to read the marker while standing)
Terrariums (a hot house in the comfort of your own home)